Welcome to Majik Poodle. This isn't your typical internet website, but you've already guessed that. Yes, I am a dog - a poodle - The Majik Poodle...

I came from a land far away, Poodle Junction in South Carolina, to live with my human spirits in Colorado.


The purpose of my site is to share my adventures and provide an additional template for my mom at Web Designs by Kate. My mom, Kate Large, created my website and helps me when I mess up the html code (patience of a saint...). If you're looking for a new webmaster or want a new, creative, user friendly website, email me and I'll pass on your request to her (don't tell anyone, but my new friends get priority... shhhh). All client's needs are met with care and personal customer service whether the website is for your wonderful pet (like me) or a business.
My dad owns his own business as a subcontractor offering quality work in the form of steel stud framing, drywall and acoustics. Pride in his work and honorable business ethics keep him in high demand here on the front range of Colorado and beyond. You may meet him at Interior Systems Associates.

Mom builds websites that are mostly spiritually based. She also shares her spiritual evolvement through her own websites: Soul Kisses Spiritual Whispers, Communicating with the Angels and Spirit Orb Photo Op.

I have one seester, yes, I'm a French poodle, but my seester, Jesse, took Spanish in high school and became my seester. I express myself much more freely when Jess is around – she entertains herself, me and anyone who is listening with my lively, witty chatter. Some times I amaze myself. Jess has a magical eye when it comes to photography. She's now sharing her work with the world at Black and White Photography Thru My Eyes.

Mom named me Majik because I brought magical love energy to our home. She says God sent me because she asked Him to. I'm "Fluffy" when I need a haircut, Maj for short and Maji or "my love" when mom's hugging me. Yup, I'm a lover – I give great hugs and love to snuggle beside someone or on their lap. I even give dad hugs. One of my favorite places to snuggle up for a nap is on Dad's pillow, but I've discovered there are better places to sleep...
I also make mom laugh.

What do you get from a small dog named Majik? Majik Poo of course!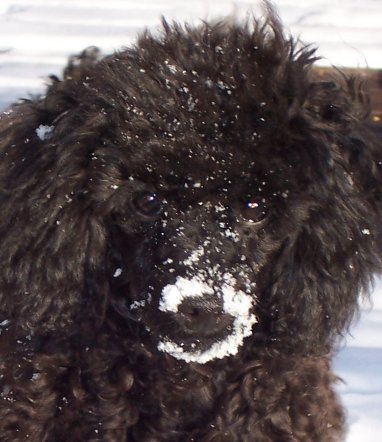 I LOVE snow...
Mom says I'm easy to see...
It sure is hard to find a snowball though...
Dad threw a snowball to me and I couldn't find it, hence my disappointed face...