Unexpectedly my animal instincts clicked in and all eleven pounds of me jumped out the truck window and skimmed over the snow covered ground, feet barely touching - I was zooming like a black rocket toward the deer.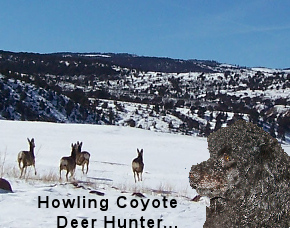 Needless to say, mom and dad freaked! They jumped out of the truck and yelled at me to come back. But I wasn't listening, I was now Howling Coyote, Deer Hunter...
The deer kept running toward the mountains and I was hot on their trail. The deer went down in a draw and came up the other side - I went down in the draw and didn't.
Dad hiked out to where I disappeared. I was in the bottom of the draw sniffing. Of course I was told to "get to the truck" rather forcefully... I came up out of the draw running toward mom as fast as I could. She had a towel for me. I jumped into her arms and she demanded, "What were you thinking?"
My entire body was vibrating with excitement! I kept exclaiming "Deer! Deer! Deer! Mom did you see that???"
Finally everyone calmed down and we loaded back up in the truck to go home. Mom told me that lap dogs should never ever jump from a truck window much less chase wild animals so much bigger than they are!
You may read the full story at the Soul Kisses website in the March 2007 newsletter.
For a few minutes there, I was Howling Coyote, Dear Hunter! Free and wild, running across Mother Earth, feet barely touching the ground - I truly believe I was right there at flying with the wind...